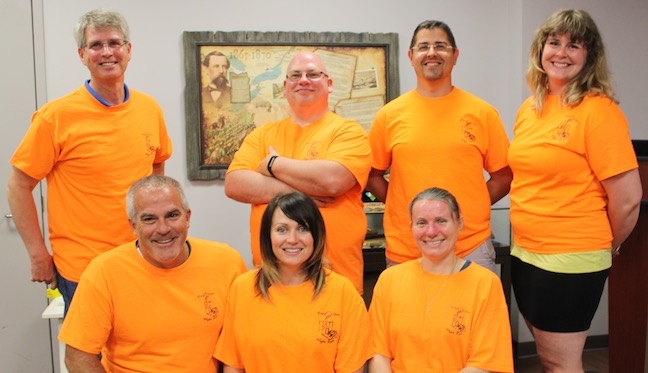 President: Michel Larose
Elected: 2017
Term of Position: 2017 to 2019
"Michel Larose graduated from Loma Linda University with a Masters of Science in Marital & Family Therapy. He began his career working in forensics. As he progressed in his work as a therapist, he learned many valuable teachings from the Cree Nation in Hobbema in Alberta and working with families and youth in crisis. When he moved to Prescott, ON, he connected with the history of the region, the community, and the need to support our youth. In his youth, he was a cadet from ages 14 to 18. When his children joined Scouts, he became active with fundraising. In his community, he volunteers with the St. Lawrence Shakespeare Festival and his Church. Michel began running at the age of 40 and has worked to connect youth and families to adopt a healthy active lifestyle to better their physical, mental and spiritual health."



Vice-President: Kellie Hare
Elected: 2017
Term of Position: 2017 to 2019
"A life long lover of running. I grew up in Maynard and always felt encouraged and inspired by the coaches and adults in my life.
Becoming a part of the Fort Town Night Run has been about giving back.

In my professional life, I work as an advocate in the Violence Against Women sector. I'm a wife and a mother of two daughters.

I'm the founder of the Prescott Pacers, an informal running club that encourages people to enjoy the social connections that come with group running. Please join us on Facebook and come out and run or walk with us.

Being actively involved in supporting youth endeavours is a privilege and I appreciate the opportunity to give back to my community."



Treasurer: Marc Gomez Segu
Elected: 2017
Term of Position: 2017 to 2019
"Marc is originally from Barcelona where he grew up and started his working career in the world of finance as a Financial Advisor for a bank for over 7 years. He and his Canadian wife moved to Canada in December of 2013 and since then he has worked for different companies and organizations (as an Accountant for a local company in Brockville, as a part of the financial team for the Community Foundation of Ottawa and also as a Financial Advisor for a financial institution also in Brockville). In May 2017 he decided to pursue his dream and launch his own business importing high-end Spanish foods - European Quality Foods.

Marc is passionate about sports, especially running. One of the first things he did after moving to Canada was join the 2 local running clubs: the Prescott Pacers and the Brockville Road Runners Club. He has run many races over the years including 5k, 10k, half-marathons, marathons, trail runs and ultra-trail and in many different cities (Barcelona, Nice, Lisbon, Ottawa and Toronto).

Since moving to Canada Marc has been involved in the community, volunteering for the Kinsmen Club of Brockville, coaching a team for the Prescott District Soccer Association, and taking care of the financial and organizational side of things as a Trustee and Treasurer for the Fort Town Night Run."


Secretary: Dan Gilpin
Elected: 2017
Term of Position: 2017 to 2019
Volunteer Experience:
Within Scouting, Mr. Gilpin is a lifelong Scout, participating in innumerable camps and events. Most recently he has fulfilled the leadership position of Group Commissioner for the North Grenville Scouts for over 6 years. Mr. Gilpin also brings experience as a Scouter for cubs, scouts and venturers.
Within the School System, Mr. Gilpin has been active on Parent Councils for 10 years, fulfilling the roles of Secretary, Co-chair and Chair. He has been active in Fundraising for classroom and playground equipment, as well as participated in the Upper Canada District School Board's Community Engagement Initiative to provide feedback on school amalgamations and restructuring, school boundaries and design of the new North Grenville District High School.
Work Experience:
Mr. Gilpin's work experience is in Operations within small to medium sized companies. Various positions include Account Management, Program Management, Supply Chain Management, Quality and Facilities Management.
Education:
Mr. Gilpin holds a Masters of Business Administration (McGill) and a Degree of Mechanical Engineering (Lakehead).



Volunteer Coordinator: Julie Larose
Elected: 2017
Term of Position: 2017 to 2019
"Julie Larose comes from a family where volunteering is highly prized. She was a member and then a Girl Guide leader for 13 years, and has been a La Leche League Leader for 14 years. She has also volunteered locally with Good Food For A Healthy Baby, the Prescott Library Story Time, her church, the Prescott Playground Project, the St. Lawrence Shakespeare Festival, Prescott KidzChoir, JumpStart, and with various fundraisers for Scouts. She has a B.A. in Religious Studies from the University of Ottawa and has published two books for children. She ran a home daycare for 10 years and is now a department manager for a local store where she has worked for 5 years. In her rare free time, the likes to write, paint, cook, garden, and has recently become involved in community theatre.




Trustee: Caitlyn Quade
Elected: 2017
"Caitlyn Quade graduated from the University of Ottawa in 2012 with a Bachelor of Fine Arts. She begun working with Parks Canada in the summer of 2009 as a student guide, and after a few summer of interpreting the military and social history of Upper Canada and Great Britain - she caught the history bug and has been with the Agency ever since. Now the Interpretation Co-ordinator for Fort Wellington National Historic Site - Caitlyn's passions include historic weapons, photography, and all things dogs. She recently started running and while she is more a tortoise than a hare - she loves to run outdoors along the St. Lawrence River and on trails. After working in the community for years - Caitlyn has found great joy volunteering with the Fort Town Night Run, giving back to the community and encouraging youth to enjoy and appreciate the outdoors, history and physical activity."



Trustee: Paul McAuley
Elected: 2017

Trustee: Sue O'Hanlan
Elected: 2018